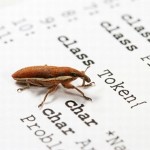 Hey Folks, hat jemand von euch eine solche Kombination? Ich hatte vor einigen Stunden ein Angebot im Dienstprogramm meine AirPort Extreme von 7.6.1 auf 7.6.3 zu aktualisieren. Ein paar Tage vorher war ja 12D65 Tag, also auch brav AirPort Extreme Firmware 7.6.3 installiert. Lief auch soweit ganz gut. Bis eben, als mein MacBook Pro aus dem sleep aufgewacht ist. Das Wlan Signal war alle paar Minuten weg und kam auch nicht von selber wieder. Ich muss dazu sagen, ich arbeite ausschließlich im 5GHZ Netz mit meinem MacBook Pro. Andere Geräte sind alle im 2.4er Netz.
Erst nach Wlan deaktivieren und aktivieren kam das Wlan zurück. In den Logs fand sich dann folgende seltsame Meldung:
kernel

[

0

]

: wl0: Roamed or switched channel, reason CSA
kernel

[

0

]

: wlEvent: en1 en1 Link DOWN virtIf = 

0


kernel

[

0

]

: wl0: Beacon Loss Event
kernel

[

0

]

: AirPort: Link Down on en1. Reason 

4

 

(

Disassociated due to inactivity

)

.
kernel

[

0

]

: en1: BSSID changed to 00:00:00:00:00:00
kernel

[

0

]

: en1::IO80211Interface::postMessage bssid changed
Hat jemand das selbe Problem mit der Kombination (12D65 und 7.6.3)? Die Lösung war dann für mich erst mal die Firmware der AirPort Extreme wieder auf 7.6.1 zu bringen. Das geht am einfachsten im AirPort Dienstprogramm, mit einem Option Click auf die Firmwareversion. Dann eine ältere auswählen und gut is. Es sind, soweit ich das gesehen habe, auch keine großartigen Änderungen in die 7.6.3 eingeflossen.
Ich bin gespannt auf eure Berichte, oder ob ich mal wieder einfach die Arschkarte gezogen habe…